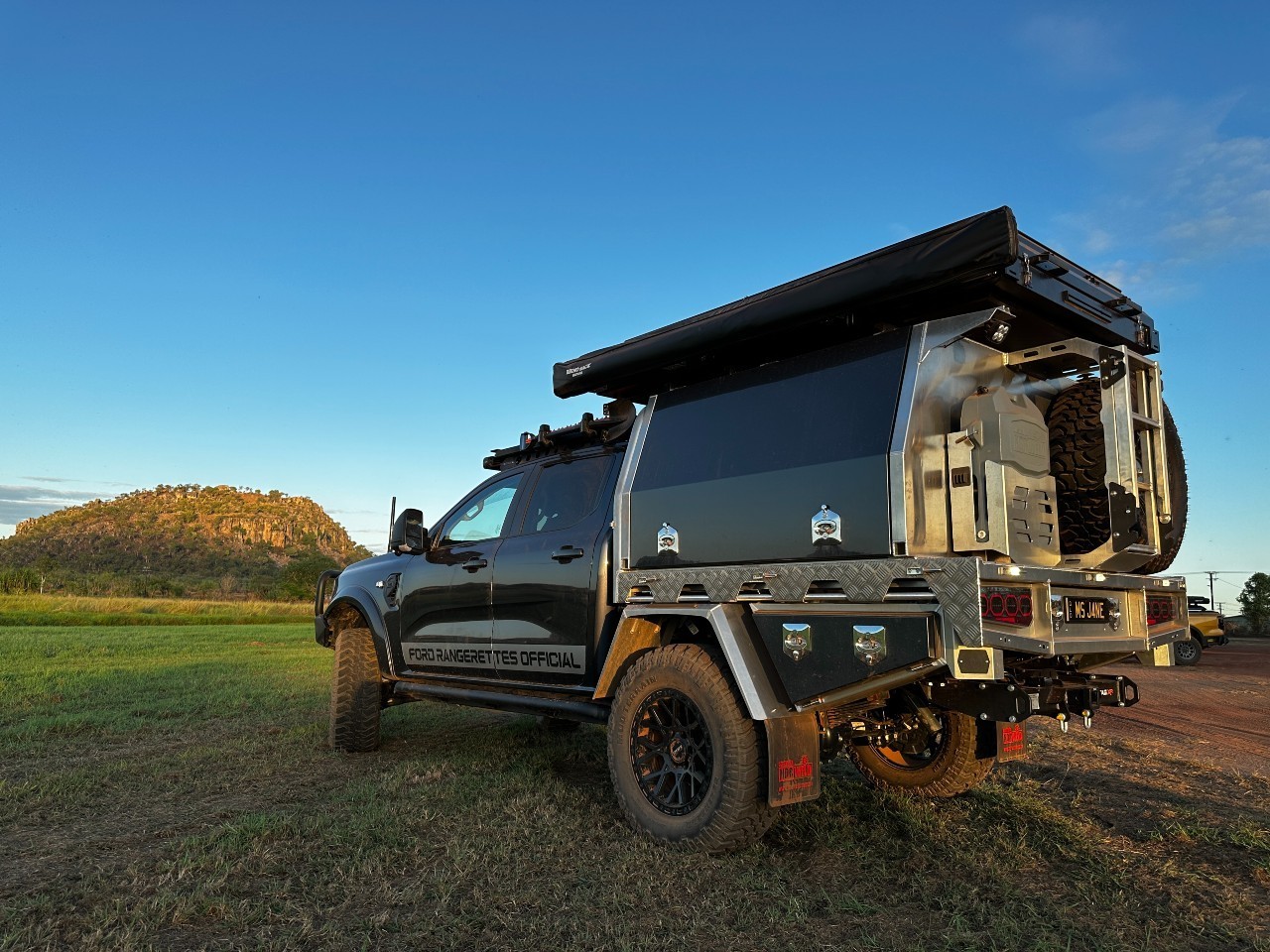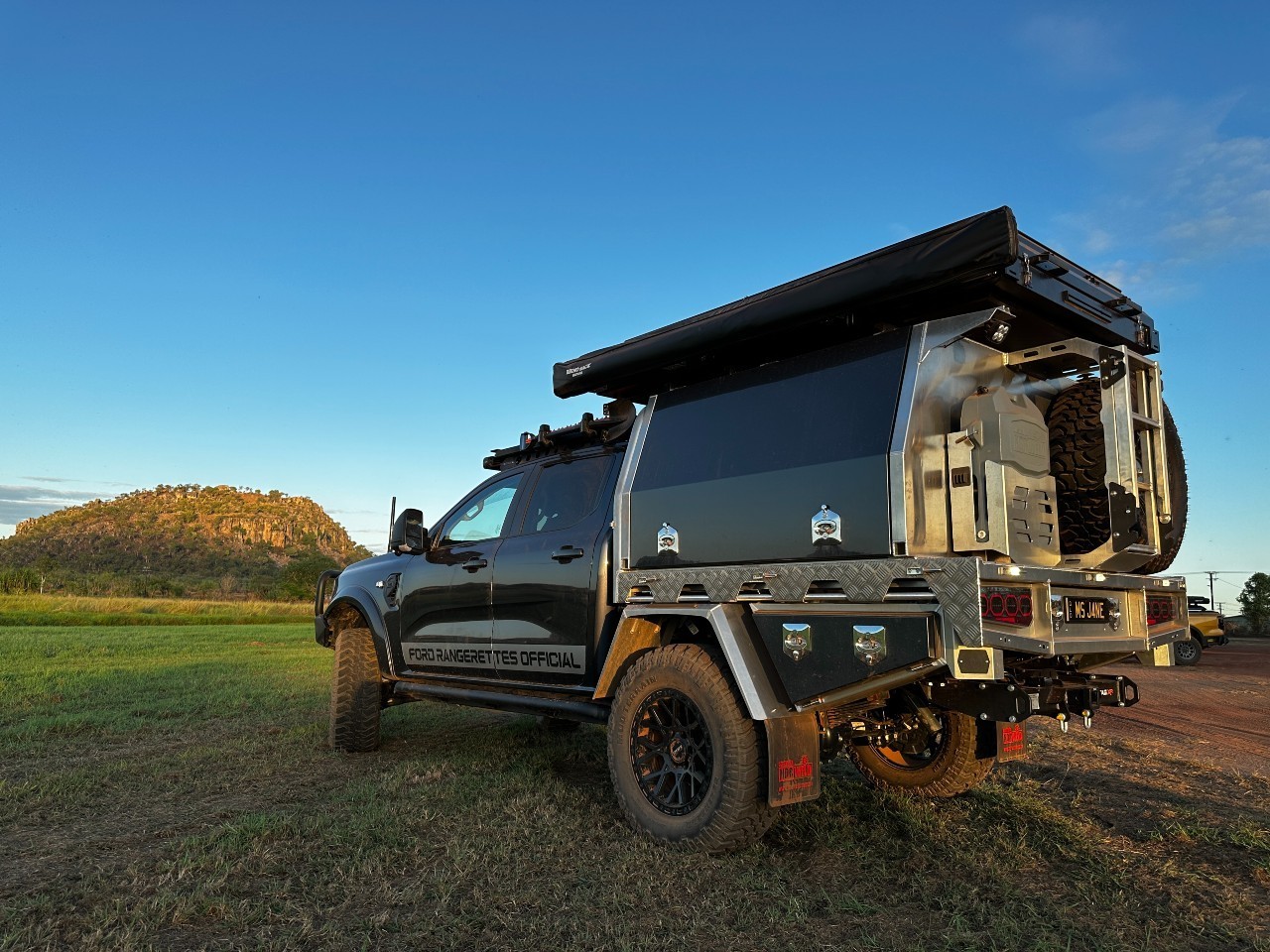 Jane's 2023 Ford Ranger V6 Sport
In this week's build we explore the exciting journey of the owner of FORD RANGERETTES OFFICAL, an all-female Ford Ranger Club. With a passion for Ford Rangers and off-roading, Jane @fro4x4 shares her latest build and how Norweld's quality workmanship and versatility significantly enhanced her camping and touring experience. Discover the benefits of Norweld's ute trays and canopies and how they transformed Jane's 2023 Ford Ranger V6 Sport into a dream rig for long road trips, fishing, and more. Join us as we delve into this unique story, and part of the Norweld Dream Team.
I am the owner of FORD RANGERETTES OFFICAL, a national all female Ford Ranger Club with over 3700 members. Ford Rangers are our passion, and we love nothing more than getting offroad and sharing our latest builds and modification ideas. This is my fourth and favourite Ranger build so far, and I couldn't be happier with how she's coming along!
My V6 Sport arrived in March this year, and The Ford Rangerettes were due to depart on a month-long Northern Territory National Tour in late June. Thirty-six Ford Ranger members were meeting up in Mataranka NT to start our convoy across some remote parts of East/West Arnhem Land, and I had a very ambitious 10 week build plan to be ready on time!
As a full-time Political Organiser for a Trade Union, it's important to me to support our manufacturing industry and Aussie companies where I can. With that in mind, it was impossible to go past the quality workmanship that goes into an Aussie made Norweld canopy. I'd been checking these out for a while and decided it was time to get serious and build that rig of my dreams.
The Norweld Team worked around my other fitment dates, and I was all done two weeks ahead of time. Not only do the Norweld canopies suit the NextGen Ford Rangers so well, but they're also an absolute game changer for camping and touring. I've never set up and packed up a campsite this fast and having a place for everything that's easy to access means more time for relaxing and enjoying the time away. The 'extra package options' that Norweld offer make long road trips even easier. Adding the Travel Buddy allowed me to cook roasts whilst driving and hitting our next destination with dinner ready to go. If you're mad keen fishing like me, you need the clip-on kitchen that doubles as the perfect filleting table. I am thoroughly enjoying the V6 Sport build and would say she's 90% complete (are we ever truly finished?)
Thanks for including me and my rig in the Norweld Dream Team!
– Jane
i: @fro4x4 @fordrangerettesofficial
f: @fullysent4x4 @fordrangerettesofficial
t: @fordrangerettesoffical
About JANE's Build
Jane's 2023 Ford Ranger V6 Sport
NORWELD PACKAGE
REDARC Ultimate Wiring Kit
40L Poly Watertank
Travel Buddy marine grade oven
Clip on kitchen bench and sink
Bolt on Jerry Can holder
4WD ACCESSORIES
SUSPENSION
ARB Old Man Emu Pre Rego GVM upgrade (3650kg) with BP-51 shocks
Airbag Man airbags
LIGHTS
Lazer Lamps Australia
Sentinel Elite 9″ Spotties
5 x Triple R-750 Elite long range lights on roof rack
2 x Utility work lights on Canopy rear
WHEELS
Black Bear Tyres Australia Mud Terrain
ROH Wheels Crawlers 18″
OTHER
ARB Front Airlocker
ARB Twin Compressor mounted behind the seat.
ARB Summit Bar
ARB Bashplates
ARB Rated Recovery Points
ARB Linx system which manages my airbags, compressor, exact tyre inflate/deflate readings, fridge, all the lighting, accurate speedo etc.
Southern Cross Fabrication Fatboy Rocksliders
TAG Towbars & Towing Accessories TAG XR Towbar package
Kickass Outback Shower
Rhino-Rack Backbone and Platform Rack
Rhino – Rack 270 Awning
Hardkorr Hardshell Dual Lift double bed Rooftop Tent
Ecoxgear Australia EXG3000-TPK 5.0W UHF CB Fixed Mount Radio
EcoXgear Australia SoundExtreme SE26 Soundbar
EcoXgear Australia SoundExtreme ESO8 Subwoofer
Clearview Accessories Nextgen towing mirrors
Clearview Accessories drop down Fridge slide.
ARB 69L Dual Zone Fridge Freezer.
Fabulous Fabrications Snorkel.
Brisbane
Jane was looked after by our Brisbane Branch Team. If you'd like to learn more about how our team can support you to get into a Norweld build, reach out.
Finance options available.
#putyourselfhere