nORWELD Perth, Western AUSTRALIA
IN PERTH SINCE 2021
Norweld Perth is conveniently located in the new Wangara development area just
off Ocean Reef Rd, with quick access to the Mitchell Freeway whether you are coming from North or South.
Our newly completed Perth showroom and warehouse offers in-store sales and installation. With our location comes a wide variety of customers, whether you're a tradie looking for a work set-up, a full time tourer or anything in between, Norweld Perth has something for you.
22 Opportunity St, Wangara WA 6065
OPENING HOURS
Monday: 8:30am–5pm
Tuesday: 8:30am–5pm
Wednesday: 8:30am–5pm
Thursday: 8:30am–5pm
Friday: 8:30am–5pm
Saturday: Closed
Sunday: Closed
Jarod Clements | Perth Branch Manager
Jarod Clements is proud to be the Norweld Perth Branch Manager, handling sales and service for the West Coast and surrounds.
With a background in the automotive and manufacturing industries Jarod is passionate to be working for a leader amongst those fields. As a Perth local born and raised Jarod has always been a mad keen 4wder and fisherman.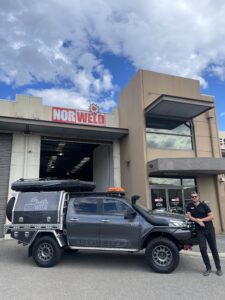 DION katemis | SA/WA/NT Sales & BUsiness Development Manager
Dion Katemis is the SA / WA / NT Sales Manager and is responsible for overseeing our branches and agents within these regions.
Before joining the Norweld team, Dion has been fortunate enough to spend an extensive time touring through the most corners of the country

Prior to this, he worked for TJM South Australia as a Fleet Manager, where he managed the fitout of a large range of vehicles varying from minespec service vehicles to private use tourers.
Outside of Norweld, Dion likes to spend his free time either working on his 4WD or out touring