Townsville SHOWROOM AND FITUP FACILITY
STORE OPENING IN JULY
Shop 6/547 Woolcock St, Mount Louisa QLD 4814
OPENING HOURS
Monday: 8:30am – 5:00pm
Tuesday: 8:30am – 5:00pm
Wednesday: 8:30am – 5:00pm
Thursday: 8:30am – 5:00pm
Friday: 8:30am – 5:00pm
Saturday: Closed
Sunday: Closed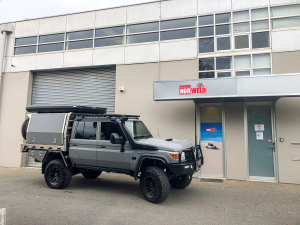 William Mansfield | Townsville Branch Manager
With the most hands-on Norweld manufacturing experience in the team, William has spent the past 3 years building these dream rigs within the processing shed. As the leading hand he was looking after the CNC Routers and Deburring.
William goes by the name "Rabs" or "Rabbit" and spends his spare time boating, camping or fishing at any chance he gets. With a questionably small boat, he is dedicated to the outdoors proving he is a great fit for our Townsville Branch.
If you are an outdoors enthusiast, William is the man to talk to in Townsville.