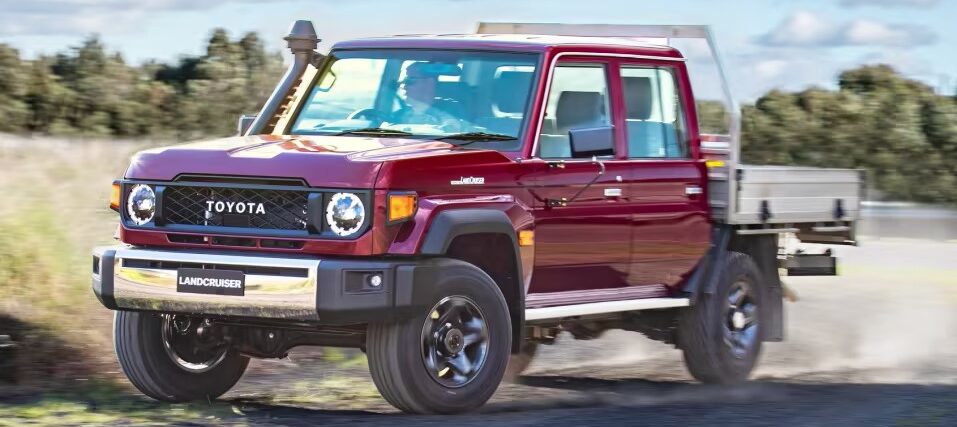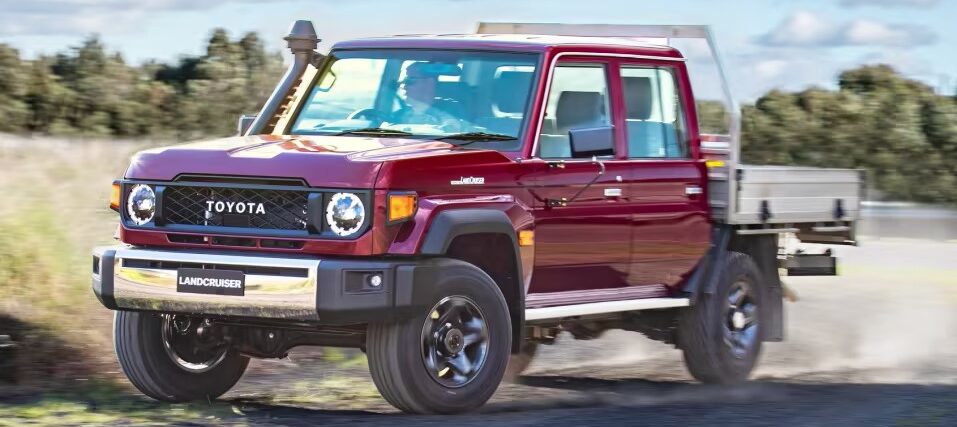 New LandCruiser 70 Series
Revamped Toyota LandCruiser 70 Series Set to Debut: Enhanced Features and Retro Design Create Anticipation
improved safety suite and engine options is stirring excitement in the automotive market
Uncertainty looms around when the LandCruiser 70 Series will be purchasable with the arrival of the updated model expected to be between October and December 2023. The 2.8-liter turbodiesel engine generates 150kW at 3400rpm and 500Nm within the 600-2800rpm range. This represents an increase of 70Nm but a decrease of 1kW compared to the V8. Allowing it to maintain its power output of 151kW at 3400rpm and torque of 430Nm from 1200-3200rpm.
New Options
This gives us the option to select the four-cylinder engine and automatic transmission across the lineup. This encompasses the single-cab chassis variants – Workmate, GX, and GXL – as well as the dual-cab, five-door wagon, and Troop Carrier in the Workmate and GXL grades. While the V8 will no longer be available for the Workmate wagon, it will remain an option for all other model grades.
Upcoming release of the 2024 LandCruiser 70 Series brings a fresh facelift
The latest update for the 70 Series showcases a fresh facelift with a design evoking retro aesthetics more than the current model. Notable features include distinctive circular LED headlights reminiscent of the original model's sealed-beam headlights. The front end has undergone a complete overhaul incorporating features such as: New bumper, bonnet, and grille. As well as the front-wheel arches with cut-outs that are suggestive of early 70 Series models. The design of the new in-built screen system stands out from other Toyota variants. Additionally the instrument cluster follows suit with its new digital speedometer.
New Safety Features
The advanced safety suite also has enhancements, now incorporating features like: Automatic high beams. New lane departure alert system. As well as new technology in regards to new speed sign recognition. I believe these upgrades complement the existing autonomous emergency braking technology that was introduced last year, which includes pedestrian and cyclist detection.
RELEASE
Anticipated to grace dealerships in Australia between October and December 2023, the 2024 Toyota LandCruiser 70 Series awaits its official release. The pricing details are expected to be disclosed to us closer to the launch date. We certainly believe this is a huge overhaul to a stalwart of the Toyota lineup and will shake up the marketplace. It could be the catalyst for change in the industry to come in the future.
FACEBook review
We have also reviewed the new LC 70 series on our facebook with a great dive into what makes this new model unique in the market.