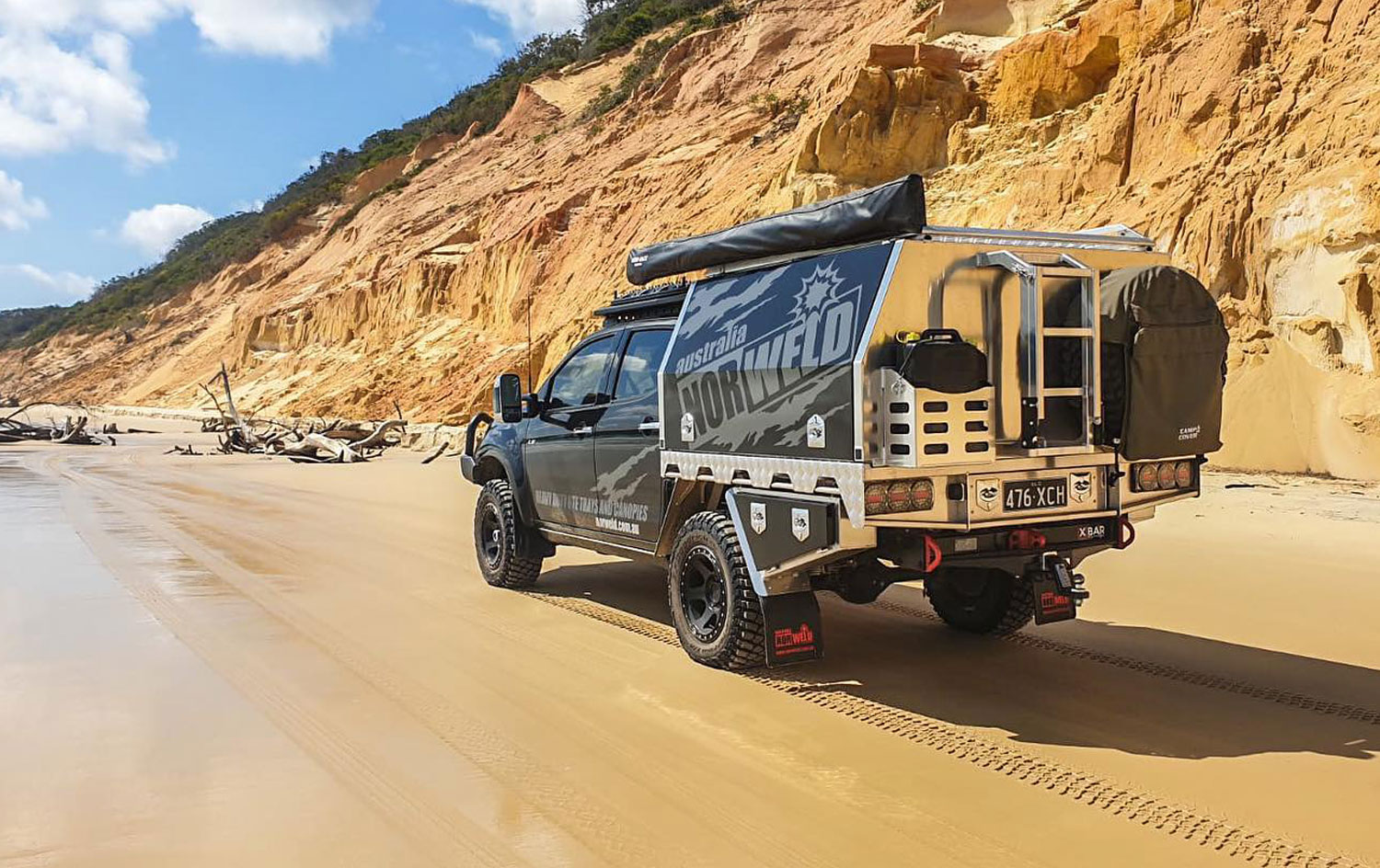 frequently asked questions
General FAQ's
Can I get a custom-designed tray or canopy?
The short answer is no. We offer a fixed range of products and sizes which are carefully designed and thoroughly tested. The R&D process typically takes hundreds of hours to ensure the end product meets our high standards to be worthy of the Norweld name and guarantee.
I'm a long way away – how do you build it without my car?
We do not need the vehicle at all for the build. Fitting takes a day if you come to us at one of our 6 locations in Cairns, Brisbane, Sydney, Melbourne or Perth! We also have agents around the country, you can find out more about them here: https://norweld.com.au/locations/norweld-agents/
How does the shipping work?
We send the tray or tray and canopy on custom-made pallets. Any trays with drawer will have a stand to protect the drawer and tank from damage. We can send to a depot or business address with a forklift.  Additional costs apply for this as opposed to install in one of our Norweld locations.
I'm buying a new Landcruiser or Hilux – can the dealer fit it?
If the vehicle is getting built and is not in the country we can use our redirection codes to get the vehicle bought to us pre-delivery for install of our products. The shipping costs will be lower if you live in a non-metro area and we do not charge for in-house fitting at our workshop.
Do the Trays and Canopies on your website look identical to a new build?
Norweld products are in a constant state of evolution. Over time we will refine the design for a Tray and Canopy, usually to increase the strength of the build, or to offer a better solution than existed previously. On occasion the photos in our marketing material may vary slightly from what you will receive. Please contact our sales team if you are unsure about a specific design feature.
Can I keep my original tub or tray?
Absolutely. If you wish to retain your existing tub or tray after upgrading to a Norweld Build we are happy to accommodate.
A flat bed single cab ute or  flat bed trailer is best for collecting the tub with some standard sized pallets underneath. Box Trailers are not suitable for transporting a tub without causing damage during the loading process. We will not load box trailers.
Due to space restrictions we are unable to store any items. Any existing tubs or trays left with us will be recycled.
American Truck FAQs
Are all conversion companies the same?
Norweld endeavour to work with as many conversions, makes and models as possible, however it is not feasible to cover every possible combination. It is worth noting conversions undertaken by different companies will be very different in the way they are performed and not all are equal. This can ultimately have an impact on Norwelds ability to relocate the driver aid systems like radars, cameras and sensors as well as wire in our LED tail lights. On newer vehicles like F250/350 and RAM 2500/3500, a hyperflash indicator on the dashboard maybe present after the tail lights are wired. A dealer or American Truck specialist technician may be required to turn off this function within the vehicles computer. It is up to the owner to organise and cover this cost. Please chat to your salesperson about your specific vehicle and its requirements.
Will all driver aid systems function as designed by factory?
Norweld strive to offer a seamless package and integration of the factory cameras, sensors and radar systems. There are however some limitations due to design factors. Cameras mounted up high to the back of the cabin will not be relocated. 360 degree "birdseye" systems will have a modified view as it is not possible to relocate them into the same position as factory. Radar systems have been extensively tested, however it is impossible to account for every scenario on all makes and models.
Will my RAM 1500 Fuel Filler still "click"?
RAM 1500's have a roll over anti leak valve in the top of the fuel tank, designed to prevent spills should the vehicle roll over. Unfortunately due to the difference in flow rate between Australian and American fuel bowsers, this valve can prevent fuel from entering the tank, causing the bowser to "click" and stop filling. The best option is a replacement long range tank that is not fitted with the roll over valve.
Wiring FAQ's
What are "lithium" batteries and why?
LiFeP04 (commonly refered to as Lithium) batteries are an alternative to conventional AGM batteries for dual battery systems.
There are numerous benefits to upgrading your 12 volt wiring system to a lithium battery.
Weight: A 105ah AGM battery weights 29kg. a 125ah Lithium (equivalent Of 200ah AGM) weighs just 15kg.
Performance: They charge faster. can deliver more current for longer (important for inverters) and experience very little voltage drop as the battery discharges. keeping efficiency up.
Longevity: Most conventional AGM's are rated for 300-600 cycles at 50% depth of discharge. whereas an Enerdrive B-Tec is rated to 2000+ cycles depleting to 80% depth of discharge. Basically the battery Will run out of life before you run out of cycles. Current lithium technology has a 5-7 year life span.
AC-DC and DC-DC chargers- What are these?
A DC to DC charger is designed for taking current from the vehicles alternator and controlling it so it can safely charge the   battery and prolong its life. they normally include a solar charging regulator as well.
AC to DC chargers are designed for charging your battery from a standard 240 volt wall outlet that you would find in your house or caravan park.
Why do I need an Inverter and how big does it need to be?
Inverters turn your DC power stored in your battery to 240 volt AC power. This allows you to  plug your conventional home appliances. laptops. drone and camera battery chargers etc in. The size of the inverter you need depends on what you wish to plug in. Most of the time a device manufacturer will write the power usage in watts on the device. Generally anything with a heating element will require a large inverter which draws a lot of current thus requiring a large capacity high quality battery and charging system. Most coffee machines and induction cook tip require 2000w of continuous power.
What is a Battery Guard and Why do I need one?
Battery Guards are designed to protect the battery before you completely discharge it. Because a Lithium Battery will hold its voltage until it is almost completely flat. conventional low voltage cut outs found in most 12v fridges do not work.