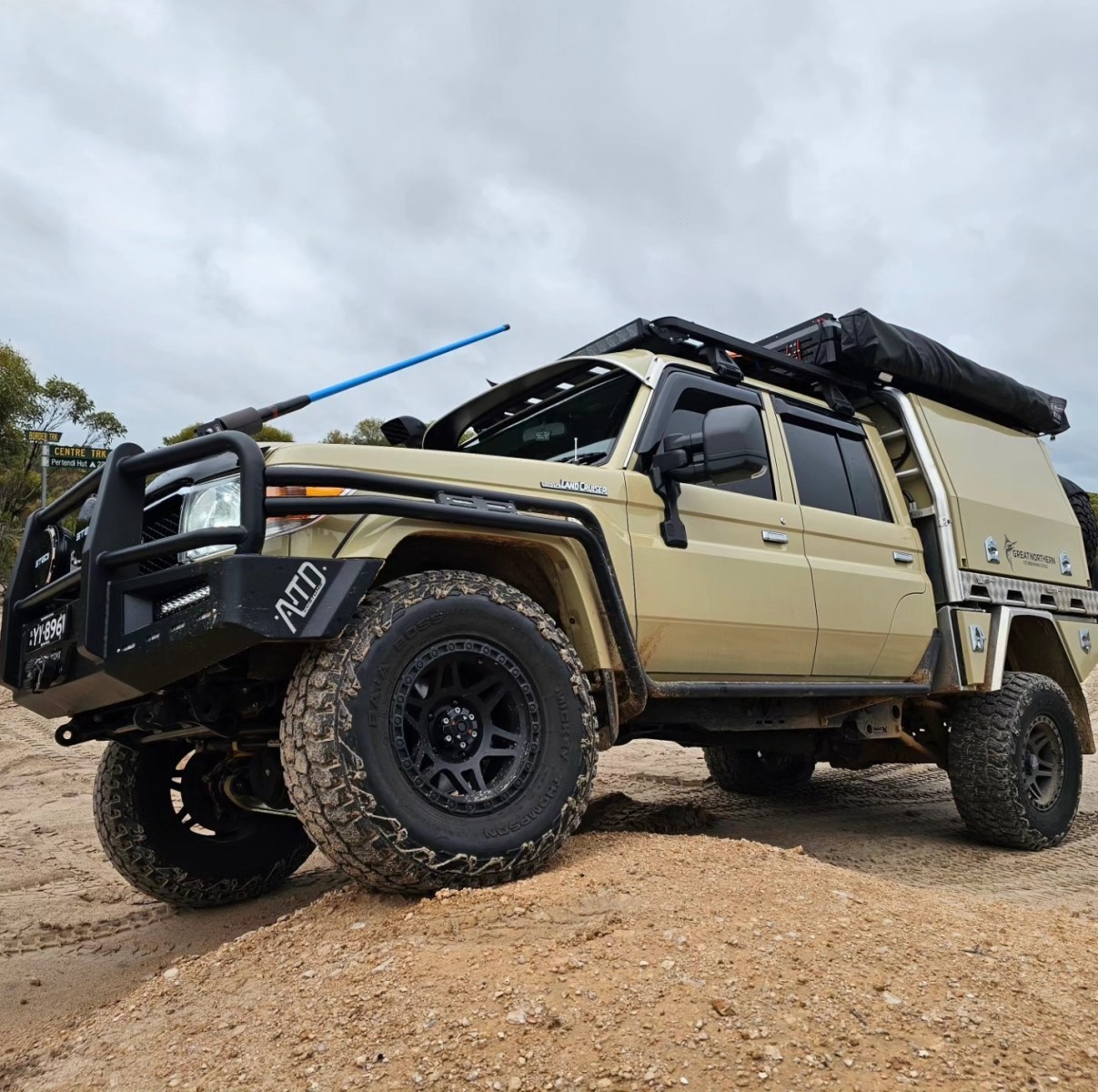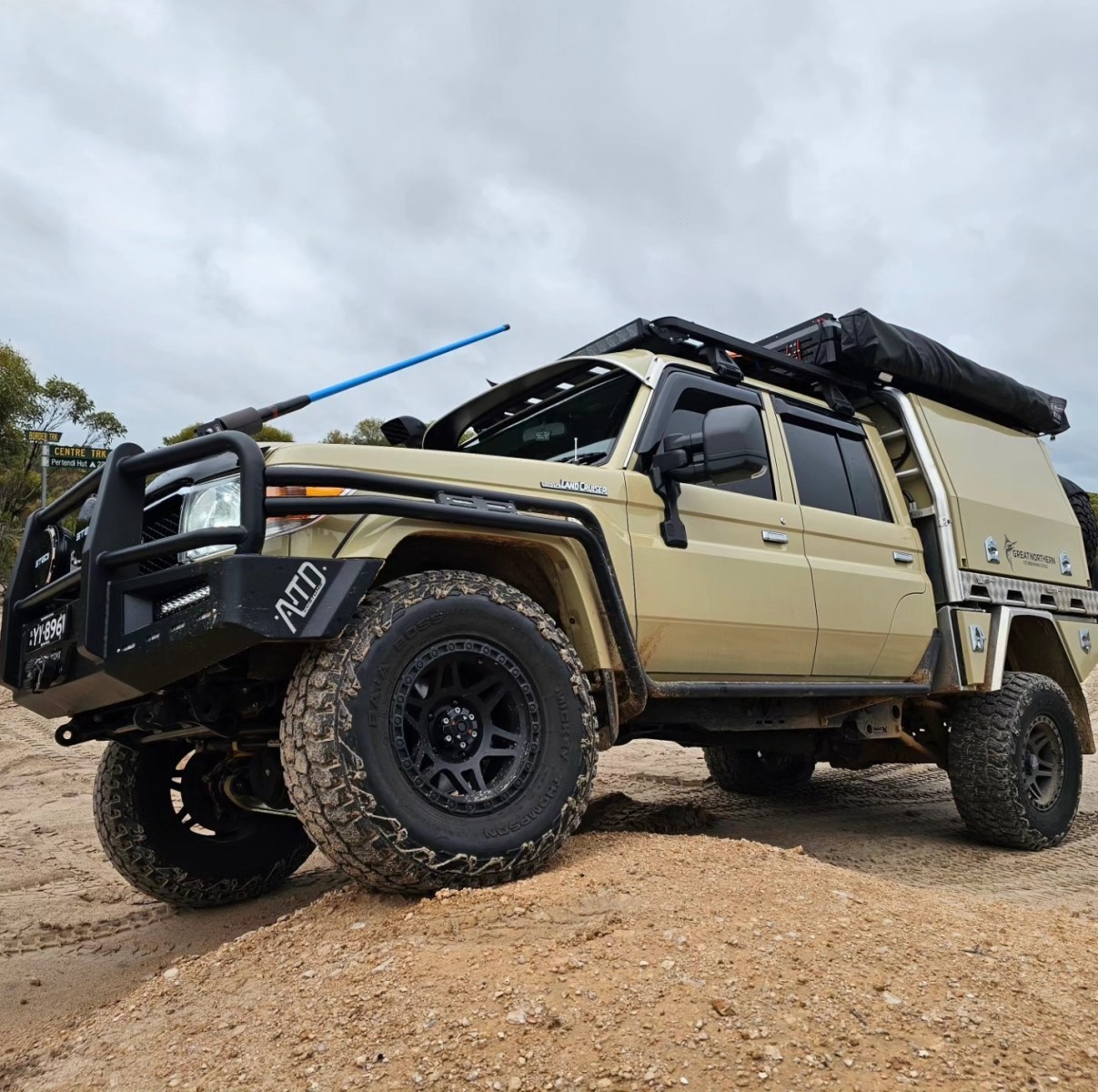 Jerome's 2022 Landcruiser 79 Series
Jerome @jeromebadger is a great example of why Norweld customers come back to us when it's time to upgrade their vehicle. With over 50 years of innovation we pride ourselves on an unwavering commitment to quality, durability, and customer service. The craftsmanship behind each of our products reflects Norweld's deep understanding of our customers' needs, particularly the challenges faced by off-road adventurers and tradespeople. The robust construction of our ute trays and canopies ensures they can withstand the toughest conditions, instilling confidence in customers. Jerome's 2022 Landcruiser 79 Series is a rig to check out. As you can see a lot of planning has gone into this build to get to the point where in Jerome's words, "this setup works perfectly for me and I wouldn't change a thing". This build was expertly crafted from a stock vehicle to a turn key tourer by our agents, Jacksons 4×4 located in Murray Bridge. You can find a link to his full build here.
G'day I'm Jerome, also known as Badger. I'm 31 & based out of the beautiful Riverland, South Australia region.
I'm a fulltime truck driver mainly doing long distance road train work all over Australia so I get to see and explore many beautiful parts of this country, although that makes my bucket list even greater haha.
Outside of that I'd call myself a camping and 4WDing enthusiast. Every year I plan a big trip, ranging from Cape York with my last Landcruiser & Norweld setup to Fraser Island & Central Queensland trips. Simpson Desert, Northern Territory, well hey… basically everywhere.
I've learnt a few things from my first Norweld build and as you can see I didn't stray away from coming back. As a weekend tourer to a 5 week tourer and everything in between I just love having the ease of setup, this setup works perfectly for me and I wouldn't change a thing. The customer service hands down has been the best thing about it, alongside the quality and workmanship that's been put into the trays and canopies that I've owned.
Thanks so much, I'm proud to be apart of the Dream Team.
Jerome
@JEROMEBADGER
About Jerome's Build
2022 Toyota Landcruiser Dual Cab 79 300mm Extension
NORWELD PACKAGE
Deluxe Compact Canopy – Great Northern Edition
Full 2 Pac Paint to Canopy Body
Enerdrive Extreme Wiring Package
130L Bushman Upright Fridge
Medium Shelf
Roof Top Tent Brackets
4WD ACCESSORIES
SUSPENSION PACKAGE
JMACX 4495kg Super Chassis with Alpha Remote Reservoir shocks
Airbag Man airbag kit
Marks 4wd hydro booster
Brown Davis 185L tank
NPC HD 1300 clutch kit
Torqit 3.5″ exhaust system
WHEELS
Method 312 HD wheels
Mickey Thompson Baja Boss's
EXTERNAL MODS
ATD Customs 2 post bar
ATD Customs side rails
ATD Customs side steps
Colour coded genuine flares
Carbon 12,000lb winch (front & rear)
Factor 55 Ultra Hook (front & rear)
Stedi Type-X pro lights
Safari ARMAX snorkel
Clearview Next-Gen mirrors
Rhino Rack Pioneer platform
The Bush Company AX27 rooftop tent
The Bush Company 180XT Max Awning
ELECTRICAL
ARB second battery tray
ARB BCDC mounting bracket
Jacksons dual battery wiring loom
Redarc BCDC 25 AMP charger
Century dual force AGM battery
Battery link function
Redarc 200 AMP isolator
Jacksons battery link wiring loom
ENGINE BAY
Direction Plus fuel filter
Marks 4wd catch can kit
ARB Driveline breathers
Garrett Hiflow turbo
Boost + Egt gauges
ECU Remap
INTERIOR / SOUND SYSTEM
Cruiser Consoles roof console
Cruiser Consoles centre console
Dometic 10.5L fridge / freezer
GME TX-4500 UHF radio
GME Beyond Blue aerial
Redarc Tow-Pro Elite
DOTI ashtray switch panel
Multidrive child restraint
Dynamat sound deadening
Alpine sound system
Phoenix Gold subwoofer
AIR COMPRESSOR
ARB twin compressor
ARB 4L air tank
JIC fittings & braided lines
ARB air pressure control
Airbag Man paddle control kit (for airbags)
Airbag Man pressure gauge
Jonathon Warren – Sydney
Jerome was looked after by our Sydney Branch Manager, Jonathon Warren and the team at Jackson's 4×4 Murray Bridge. If you'd like to learn more about how Jonathon or one of our team can support you to get into a Norweld build, reach out.
Finance options available.
#putyourselfhere