Maximize Your Tax Refund with Norweld – Book Your Build Before June 30th!
Don't Miss Out on the Instant Asset Write-Off for 2023 – Invest in a Quality Norweld Build Today!
Every Norweld product is tried and tested across Australia's most harshest conditions making our ute trays and canopies the perfect choice for work and play. Order now to make use of the instant asset write-off this EOFY.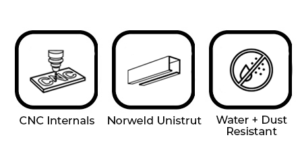 Looking to maximise your tax refund this financial year? Don't miss out on the Instant Asset Write-Off for 2023 and ensure your Norweld build is booked in before June 30th! This could be your last chance to take advantage of this valuable tax deduction, so don't wait!
With Norweld's award winning range of heavy-duty aluminum ute trays and canopies you can be sure that your investment will be built to the highest standards of quality and durability. And with the June deadline for this year's Instant Asset Write-Off rapidly approaching, it's essential to act fast to secure your spot in the queue.
*To ensure your eligibility for the Instant Asset Write-Off, we recommend seeking professional tax and accounting advice before making any purchase. And with all products needing to be installed, delivered, or collected by June 30th to be eligible, you'll want to book your installation with Norweld today.
Don't wait – call the team on 1300 Norweld to book your installation before our June spots fill up. With Norweld, you can maximise your tax refund and invest in a build that's built to last.